School News
Aisha's Girls Program
Posted on

November 17th, 2017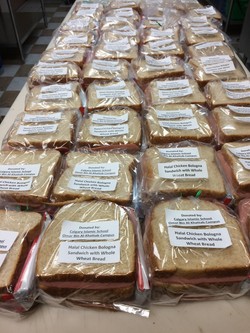 Here is yet another day at " Aisha's Girls Group". The girls had a beautiful time together today al-hamdullah!
This time, they had a halaqa about qualities of listening and the difference between hearing and listening. They demonstrated a  collaborative team skills by playing soccer and also sewed and decorated purses with felt. The girls had a special activity this time, where they made a positive impact in the community by volunteering to make 100 bags of sandwiches for the Drop-In Centre.
Jazakum Allahu khir girls for your sincere contributions in making a difference, and a special thanks to the parent who volunteered to deliver the sandwiches.