Back to all posts
Posted on
2023-2024 Grade 1-9 Applications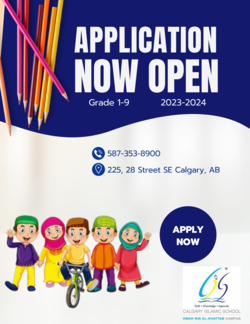 Assalam Alaikam Dear Parents and Guardians,

Application is now open to the public and CIS parents for the school year 2023-2024 for Grade 1-.9. 

Below are some important points :
 Application is for those who are not part of the CIS School System or are at AJ 

and

 are interested in the Gr K-9 regular and/or Tahfeeth program at OBK.  
This is only an Application and submitting an application does not guarantee that your child is accepted.
Applications are

 

NO LONGER based on a first come, first serve basis. 
All applications will be assessed by the administration and 

parents 

will be informed

 of the School Administration's decision either way. 

If you child is already a student at OBK going into Grade 5 to 7 and you are interested in the Tahfeeth program, please email your interest to Mrs. Azmat at asifa.azmat@pallisersd.ab.ca
If you want to apply for your child at the other campus, please access the application from the website of the school you are applying to. For example, if you are planning to apply for your child at AJ, go to the AJ school website and complete the Application process from the link there.  This is an 'Application' and not a 'Transfer'.  Therefore, applications submitted on the OBK link for AJ will not be considered.
There is a $250 

A

pplication 

F

ee 

with each Application.  If your child is accepted, this fee will be adjusted towards the Alternative Program Fee for the 2022-23 school year.  If your child is not accepted, this fee will be refunded to you. 

 

Once your child is accepted at the school, you will be asked to pay $550 Alternative Program fee for the 2023-2024 year either by June 1st or two weeks from the time you receive the acceptance letter.  A link will be sent to you to make the payment
We thank you for your interest at the Calgary Islamic School - Omar Bin Al-Khattab.

Click the link below to start your application.
https://Palliserschooldivision.schoolcashonline.com/Fee/Details/22188/109/False/True