Back to all posts
Posted on
Ayoub Talbi Completed the Memorization of the Quran!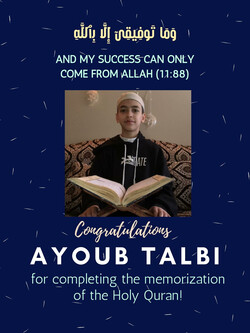 Alhamdullah, by the grace and mercy of Allah SWT Ayoub Talbi in grade 7 Tahfeeth completed the memorization of the holy Quran. Congratulations Ayoub!
May Allah SWT preserve the Quran in your heart and bless your parents and teachers for this wonderful accomplishment.