Back to all posts
Posted on
Calgary Islamic School-OBK Travel Plan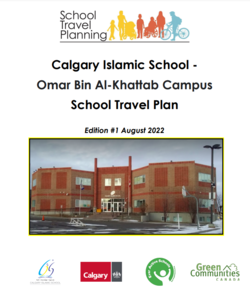 School Travel Planning (STP) is a community-based approach for increasing rates of active school travel.
Active school travel refers to transportation using human-powered modes such as walking, cycling,
scooting, skateboarding and rollerblading. Staff, parents and students at our school worked with
stakeholders at the regional level to create this School Travel Plan document. We are working together
to:
1. increase the number of children using active modes of transportation to, from and during school
hours;
2. decrease traffic congestion at the school; and
3. increase the number of students using sustainable travel modes, such as school busing, carpooling,
and municipal transit.
Click the picture to see the details of the plan.