Back to all posts
Posted on
Free Books for Families!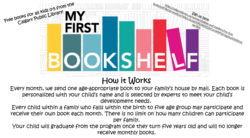 My First Bookshelf: Free Books for Families!
Receive a free customized, personal book for your children ages 0-5 from the Forest Lawn and Village Square Calgary Public Libraries every month until your child turns 5! 
An excellent way to build that love for reading early on with our future OBK students.Link to sign up: https://imaginationlibrary.com/ca/find-my-program/  See picture and website for more details.