Back to all posts
Posted on
Ramadan Water Well Drive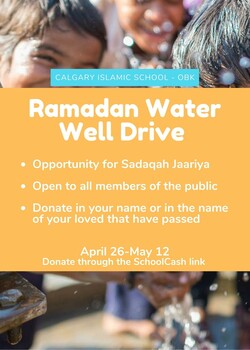 As we approach the last twenty days of Ramadan, it is encouraged for all Muslims to give Charity as much as possible- any charity one gives- one earns hasanat as if they have given charity for 83 years. In coordination with the Parents Advisory Committee, OBK has decided to collect donations to support Muslims around the world through Islamic Relief. Water wells are part of this initiative. The cost of the water well is $1100 USD which is equal to $1500 CAD. Last year we were able to collect $10,000 in funds! Our aim is to reach that amount this year Inshallah. The charity we have decided to work with is Islamic Relief Canada, a well known established organization. https://www.islamicreliefcanada.org/
The school has set up an account on school cash for OBK's parents to donate directly towards.
If you are a member of the public and do not have SchoolCash account, please click on the link below to donate.

https://palliserschooldivision.schoolcashonline.com/Fee/Details/4/109/false/true?fundDestination=Omar%20Bin%20Al-Khattab%20-%20Sponsor%20of%20the%20Well 

The messenger of Allah-peace and prayer of Allah be upon him- said
والصدقة تطفىء الخطيئة كما تطفىء الماء النار
"Giving alms can erase sins just like water ceases fire." (Narrated by Tirmidhi, classed sahih by Al Albani in Shahih At Tirmidzi, in hadith no. 614)

Jazakullah Kharian for your support from OBK Staff and Students.